Yesterday we held our final (funded) event at the Frontline Club in London, a venue with an interesting history which provided the perfect backdrop for our discussions. The event was designed to bring together fellow academics working on related projects, digital writers, publishers and representatives of reading organisations to explore digital reading from a variety of perspectives.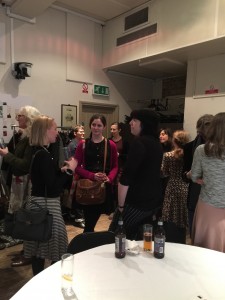 Network members present included myself and Julia, Danielle and Simon (Frost).  Auguste Janutaite, a research assistant from BU, helped with the design of our souvenir brochure and took over some of the photographic duties as the discussions got underway.
After a brief overview of the activities and research priorities of the network, we had a stimulating roundtable discussion celebrating the opportunities for creative expression that the digital has made possible, while also recognising the concerns that exist around the ownership and control of the architecture and infrastructures of digital and especially online spaces.
Among the contributions, Laura Venning of the Reading Agency predicted that the divisions between digital and non-digital reading may gradually erode, while Louise Vinter from Penguin Random House reminded us that migration between devices is by no means confined to reading, and that young readers are less concerned about distinguishing between media and platforms when it comes to talking about their enjoyment of a particular storyworld.  Louise shared some exciting initiatives with us, including a Voice-controlled Roald Dahl application for Ford cars! Louise reported that while audiobooks are a major growth area, young readers still gravitate towards print even for pop cultural phenomena such as Zoella's Girl Online.
Another topic that stimulated a lot of discussion was the issue of the preservation of digital texts and records, as the technology moves on, but also as the architectures we come to rely on are so dependent on powerful conglomerates run by a small group of people (mainly white men).
Joanna Ellis from The Literary Platform offered some interesting reflections on ereaders, pointing out the slowing down in sales and arguing that providers had perhaps been guilty of some strategic oversights in their design and distribution of these new platforms, for example overlooking the fact that teenagers and young children tend not to have access to credit cards so can't set up online accounts. Joanna also reflected on the dominance of the smartphone for this age group, with many of their cultural experiences being tied to one device.
The discussion continued well into the evening. It was great to hear of the exciting projects underway at Bath Spa and to catch up on the wonderful work of The Reading Agency and The Literary Platform. It was also really interesting to hear about the work with readers that digital publishers are doing as we all try to work out what the future may hold.
We are immensely grateful to all those who came along and took part in discussions, helping us to identify further areas for exploration and investigation.  A full list of participants (excluding the organisers) follows.
Rob Sherman – Interactive Fiction Author, recently Writer in Residence at the British Library.
Joanna Ellis – partner at The Literary Platform, a specialist agency working at the heart of books and technology.
Kate Pullinger – Professor of Creative Writing and Digital Media at Bath Spa, author of Inanimate Alice and Flight Paths, award-winning digital fiction.
Laura Dietz – novelist and course leader for the MA in Creative Writing at Anglia Ruskin University, currently researching the reputation and legitimacy of electronically distributed novels as part of her PhD at UCL.
Christine Wilks – writer of playable stories and digital art, currently studying for a practice-led PhD at Bath Spa.
Laura Venning – Evaluation and Impact Research Manager at The Reading Agency.
Louise Rice – Executive Producer at Touch Press, publishers of reading apps including The Waste Land and Think Like Churchill.
Shelley Trower – PI for the AHRC funded Memories of Fiction Project, and Lecturer in English Literature at Roehampton.
Sam Jordison, journalist and online book club moderator for The Guardian, also co-director of Galley Beggar Press.
Danielle Fuller, Reader in Canadian Studies and Cultures of Reading at Birmingham University.
Lisa Gee – writer, video-maker and digital consultant, currently working on a practice-led PhD on 'zoeography' at Bath Spa.
Simon Frost, Senior Lecturer in English at Bournemouth University.